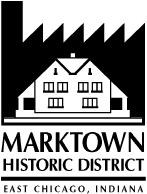 Marktown
Preservation Society
405 Prospect Street
East Chicago, Indiana 46312
Paul Myers, Preservationist
Tel. (219) 397-2239
Fax (219) 397-3130
Call for information
or to request a tour.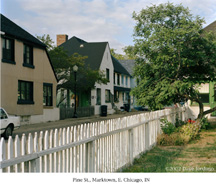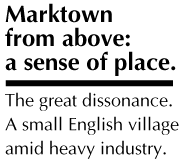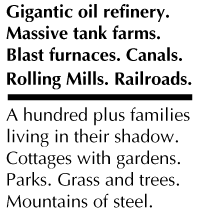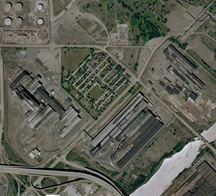 Marktown is an oasis. Walking down its narrow tree-lined streets shelters you from the reality that you are surrounded by steel mills and oil refineries. Architect Howard Van Doren Shaw carefully scripted the vistas looking down the streets, and the views out windows overlooking gardens. The result is almost like a movie set. The human, intimately proportioned homes and the narrow streets have a distinctly English feel.
The village was built in 1917 as a planned community to house workers for the burgeoning steel mills. World War I halted the plan to construct a utopian community, complete with stores, schools and a church. Had it been built, it would have followed the model of Market Square in Lake Forest, Illinois.
The irony is that the heavy industry that encapsulated Marktown has served to protect it from the ravages of urban decay. Each major war brought a new mill. World War II brought the Rolling Mill. With the Korean War came the Tin Mill, further surrounding Marktown. Observe the aerial photos for the progression of the steel mill construct. Also note as Lake Michigan is filled in to provide land for the Indiana Harbor Works.
Today, the Marktown Historic District is a living community, building on the past as it strives for regeneration. Thanks to the vision of the residents of Marktown working together, and the efforts and leadership of East Chicago Major Pastrick, Marktown is once again "rising from the mist".