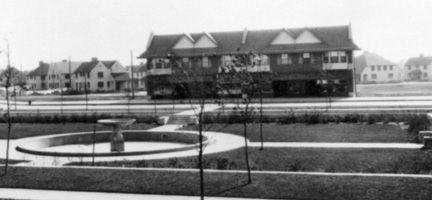 Market Square Fountain (now removed)
During World War I, the U.S. Government took over the newly built steel facility at Indiana Harbor and produced armor plate for the war effort. At the conclusion of the War, Clayton Mark was left with an enormous unmarketable amount of government refuse. At that particular time in our Nation's history, the government was not required to honor their contract for the materials ordered. In 1923, Clayton Mark sold Indiana Harbor Works to the Youngstown Sheet and Tube Company of Youngstown, Ohio. At the time of the sale only four of the thirty-two original sections of the community were built. This included three commercial buildings, three supervisor homes, and 97 white stucco buildings which divided into single, duplex and quad structures. This provided nearly two hundred separate houses in five floor plans and eleven various exterior elevations.
What makes the Marktown Historic District so unique is the concept and execution of the plan itself. The town was based upon the Garden City Concept of the late nineteenth and early twentieth century. The closeness of the buildings provides a sense of community seldom found in neighborhoods today. Several Marktown families have lived in the community since its inception and have had four and five generations living in the community at one time.
It should be noted that all of the houses that were built in 1917 are still standing today and are all fully restorable.
In 1975 the community and the City of East Chicago placed Marktown on the National Register of Historic Places. The National Register nomination states "...Marktown presents a living lesson in history and culture from the pioneer growth period of the Calumet Region. This region, which is America's industrial heartland, is quite young compared to other great regions of this nation. Sometimes in such areas the concern for history is lost. But here there is the opportunity to preserve the Marktown community as a living and useful landmark of genuine architectural and cultural significance for the Calumet Region, the State and the Country. The Marktown area is an important cultural resource which should be restored to accurately present the intentions of the original design.