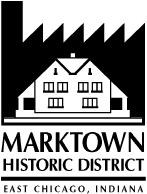 Marktown
Preservation Society
405 Prospect Street
East Chicago, Indiana 46312
Paul Myers, Preservationist
Tel. (219) 397-2239
Fax (219) 397-3130
Call for information
or to request a tour.

Audio on Marktown
Eight Forty-Eight - Marktown Interview with Paul Myers
WBEZ - Eight Forty-Eight June 18, 2001 MARKTOWN - Eight Forty-Eight architecture contributor Ed Keegan
takes us to Northwest Indiana's Marktown for a history
of the residential area and its creator, Howard Van Doren Shaw.
He talks with Marktown's unofficial historian Paul Meyers.

Government
City of East Chicago
The city of East Chicago is a mecca of the steel industry,
a cross roads of commerce, a patchwork quilt of ethnic,
racial and religious diversity.
www.eastchicago.com/
Lake County Indiana
Information from various county departments and services.
Also provides contact information of county agencies.
www.lakecountyin.com/
Organizations
National Trust for Historic Preservation
Preservation information, features, events and activism
for America's historic places.
www.nationaltrust.org/
National Register of Historical Places
Over 11,988 designated districts listed in our database.
www.nationalregisterofhistoricplaces.com/
Historic Pullman Foundation
The Historic Pullman Foundation was founded in 1973 to serve as a vehicle
for preservation and restoration activities within the Pullman Historic District.
www.pullmanil.org
Historic Landmarks Foundation of Indiana
Private nonprofit group working to protect and save Indiana's historic places
and educate the public about the importance of historic preservation.
http://www.historiclandmarks.org/
Indiana Humanities Council
Indiana Humanities Council - humanities grants, events,
and resources, including essays on history and culture.
Site has staff directory, sections for teachers and business.
http://www.ihc4u.org
Indiana Arts Commission Online
The IAC serves the citizens of Indiana by funding,
encouraging, promoting and expanding all the arts.
http://www.ai.org/iac/index.html
Lake County Convention & Visitors Bureau
Extensive information on events, attractions and activities throughout Lake County.
www.alllake.org/
Northwest Indiana Forum, Inc.
Privately-funded, regional economic development corporation.
www.nwiforum.org/
Lake County (IN) Public Library
Twelve branches throughout the county.
Location, hours and schedule information, as well as general info.
www.lakeco.lib.in.us/
History
Indiana Historic Architecture
Spotlights historic architecture and neighborhoods in Indiana.
Contains an extensive photo gallery with over 75 photos.
http://members.aol.com/timarends/preserveindiana.html
Indiana Historical Bureau
Provides programs and opportunities for Indiana's citizens
to learn and teach about the history of their state.
http://www.statelib.lib.in.us/WWW/ihb/ihb.html
IU Northwest Library -- Calumet Regional Archives
The mission of this organization is to collect, preserve,
and make available records documenting the Calumet Region.
www.iun.edu/~lib/crahome.htm
Indiana Historical Society
Works to collect, preserve, and promote the history of the 19th state.
The site includes collections, exhibitions, publications.
http://www.indianahistory.org/
Indiana Local History
Research Indiana local history by county, category and era.
Includes genealogy information, timeline, and links.
http://home.att.net/~Local_History/IN_History.htm