A guide to visiting Marktown.


How artists view Marktown.



Marktown as seen in
a new context from above.



News about the people that
are living in Marktown
and are building its future.


Related Web Resources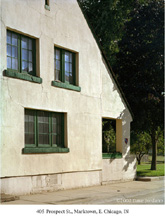 Go To Gallery

Marktown Historic District Tours and Lectures

While the Marktown Preservation Society hosts annual tours each fall, group and individual tours are available on a regular basis depending on prior commitments and availability of the tour guide.  Lectures in reference to the Mark Town Site and the architectural work of Howard Van Doren Shaw are also available upon request.  Please email us or telephone us for details.  Inquiries may be directed via email to mrmarktown@sbcglobal.net or via telephone to Paul Myers at (219) 397-2239. The tours are a great way to learn more about a truly wonderful neighborhood. Born of Steel The Mark Town Site was by all means "Born of Steel".  It was constructed by Clayton Mark, the founder of Mark Manufacturing Co. in 1917 to house workers for his emerging steel company.  In 1920 Mark Manufacturing merged with Iroquois Iron and Steel to become the Steel and Tube Co. of America.  In 1923 Indiana Harbor Works was sold to Youngstown Sheet and Tube Co. In the 1960 YS&T became Lykes-Youngstown following a merger or buy out by the Lykes Steam Ship Company of New Orleans, LA.  From there the steel portion was sold off and became knows as J&L Steel which again was merged to become LTV Steel. In the early part of this century LTV sold their No. 2 Tin Mill to US Steel. After several failed attempts to keep LTV going, a new firm was created to purchase the physical plant assets from the bankruptcy court.  That firm was the International Steel Group or ISG.  Finally, in 2005 it was announced that ISG would sell its holding to Mittal Steel which also bought out East Chicago's other main steel producer, Ispat Inland which was formerly known as Inland Steel.

Site and contents Copyright 2004


Marktown Preservation Society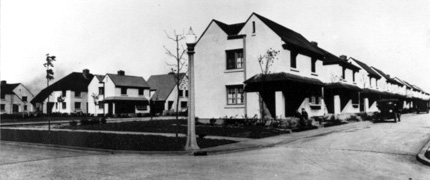 This unique neighborhood was designed by Chicago architect Howard Van Doren Shaw in 1917 for industrialist Clayton Mark.
It has been referred to as "the Brigadoon of Industrial Housing,
rising out of the mists of industry every few years."
History of Marktown PDF
Marktown Redevelopment Plan PDF

For the past year, noted Chicago photographer David Jordano has been exploring the Marktown neighborhood. Fascinated by the ethnic diversity and the "English village" framed by looming steel mills and the world's largest oil refinery, Mr. Jordano provides a fascinating perspective of life in Marktown and East Chicago.

Historic PreservationWhat Historic Preservation is all about... and how it works! September 2007 Marktown Update Newsletter Marktown Update Newsletter Archive NEW! Historic Structures in East Chicago, Indiana Much has been said about the proud, ethnically diverse and industrial history of the City of East Chicago, Indiana. Even more has been written about our early pioneer days and the industrial heritage that once made this city great. Most unfortunately for those who reside in East Chicago today, few if any ruminants of our early years exist except in the archives and record books of this city. These items are but shadows of the greatness of what this city once was. It is most fortunate however, that much of our historic past has been preserved in the bricks and mortal of more than 1000 buildings that date back to the late 1800s and early 1900s. Some, like City Hall, the First National Bank Building in Indiana Harbor and the Inland Steel Office Building are in outstanding condition, while others are in need of extensive restoration and renovation.
The concept of razing entire sections of this city has been brought to the forefront by the previous administration. Ignoring our historic past as it is presented in the residential, commercial and industrial landmarks would do a disservice not only to our heritage, but more importantly would leave our future but a hollow shadow by ignoring our past and our heritage.
While this listing of ten individual properties and five historic districts is an important beginning, we must work to prepare a comprehensive plan that would include the restoration and renovation of entire neighborhoods. This concept can best be fostered through educational efforts and the establishment of a Historic Review Board Commission, whose primary focus would be the preservation of our architectural heritage, not for those who came before us, but more importantly for those who will follow for generations to come.
NEW! Marktown Placed on List of Endangered Historic Sites The Historic Landmarks Foundation of Indiana has placed the Marktown Historic District on their 10 Most Endangered Properties List for 2006. Find out what this means to the future of Marktown and what plans are being made to reverse the downward trends of the past 30 years. 1975 National Register of Historic Places NominationA description of what makes Marktown historically significant. NEW! Historic Landmarks Foundation of Indiana and Marktown Historic Landmarks Foundation of Indiana (HLFI)is the largest state based non profit organization dedicated to the restoration and preservation of our architectural heritage in the country.  Since 1989, HLFI has published a number of articles in reference to the Marktown Historic District in their bimonthly publication The Preservationist.  In 2002 they also included Marktown in their book 99 Historic Homes of Indiana: A Look Inside. It is with pleasure that we share these references to the Marktown Historic District with our visitors to the official Marktown web site. Marktown Reference Room Index Looking for research resources in reference to the Marktown Historic District? This is it! This is one of the most comprehensive indexes of a neighborhood that exists today. Included in this 20 page resource are references to newspaper articles, books that have included Marktown, Industrial Housing and Garden City references, a listing of various video production in relation to the neighborhood and a comprehensive listing of blueprints and plans dating back to the 1917 construction of Marktown. Pictorial Marktown House Identifier A visual reference to plans, elevations and photos of each unique home design in Marktown. The initial phase of construction for the Mark Town Site was begun in 1917. The plat was not filed until Mark Mfg. and the housing were sold to Youngstown Sheet & Tube Company in 1923. The initial building phase was restricted to five floor plans with a total of 11 exterior elevations, all being low cost worker houses or cottages as they were referred to at that time. South Shore Metro - September 2003
MARKTOWN: An architectural diamond in the rough. In September 2003 the monthly publication South Shore Economic and Business News published this article on Marktown It was such a well received article that we thought our web visitors might enjoy reading it. Please note that it is set up to print on 11x17 paper. NEW! Marktown and the Marquette Redevelopment Plan In 2004 U.S. Congressman Peter Visclosky proposed the Marquette Plan which is designed to provide greater public access to Lake Michigan and serve as the impetus for the economic revitalization of Northwest Indiana.  The Marktown Preservation Society, Inc. was pleased to be a part of this historical planning process.  This two page PDF formatted at 11" X 17" contains a pair of article that appeared in Marktown Update in December 2004 and January 2005. Along with the two pages in reference to the Marktown Historic District we have included Congressman Viscolsky's 1985 and 1986 speeches for your review.  They are truly visionary and have proved to be guideposts to our future over the past two decades. Our Town - Marktown In the Fall of 2005 The Northwest Indiana Times, the Calumet Region's leading daily newspaper, included an outstanding section on all of the cities and towns in Lake County.  The Marktown Historic District as well as the Washington Park Neighborhood in Indiana Harbor were the two neighborhoods in East Chicago that were included in this outstanding section.  We are please to provide the text and the photos from that publication. Rehabber sees bright future for Marktown From The Northwest Indiana Times we find this great article in reference to Rafael Bejar's attempt to make a positive difference in the Marktown neighborhood. 1974 Marktown Neighborhood Redevelopment Plan A 1974 proposal by the City of East Chicago to restore Marktown. "Concerning Howard Shaw in His Home" by Frances Wells Shaw (1926) This text was written by the wife of Howard Shaw upon his death in 1926. It provides a thumb nail sketch of the life of one of America's most outstanding architects. Industrial Housing 1917 While conducting research into the history of the Marktown Historic District in East Chicago, Indiana, I came upon a reference to this text. I obtained a copy found it to be an outstanding reference point in relation to the architectural, social and industrial history of the of nation during the great transition between an agricultural society to that of an industrial one. I have reproduced the original pamphlet in PDF format. Marktown Preservation Society